Ten Lifehacks for Your Small Closet
An increasingly annoying problem these days is trying to create enough space in your tiny closet that just seems to keep getting smaller and smaller every day. Today, we've decided to relay some brilliant lifehacks to our customers that will surely allow you create some space and feel less cluttered during your morning routine.
     1. Drawers Drawers Drawers
Just because your closet doesn't have drawers doesn't mean that you can't add some. Organzing each drawer by activity— work, casual, workouts, night out etc. or by garment type— underwear, tees, shorts, etc. will help you stay organized and prepared for anything!
      2. Label EVERYTHING
Finally, you can whip out that label gun you've always wanted to use. Store items in boxes or baskets and label them so that you're far less likely to keep staring at that one random sock you still hang on to because you're hoping that one day  you'll find the mate. We've all been there.
     3. Color Coordinate
By color coordinating your wardrobe, you'll find it so much faster to pick out the perfect outfit. This not only creates a look of organization, but it also helps you identify which colors you have the least and most items in. Shopping just got a whole lot easier.
     4. Utilize that top space
It may not seem like a whole lot, but filling up the space at the top of your closet neatly can add a significant amount of space to your room or closet floor. Storing purses, large bags, or suitcases on top is a good way to eliminate the clutter that these bulky bags cause to other areas of your room or closet.
     5. Invest in shower rings or clothespins 
Make your hangers work harder by hanging scarves, bags, or light clothing items using shower rings or clothespins. This allows you to hang your entire collection on just one hanger! 
     6. Hang your laundry
Forget about cluttering up your room or closet with a bulky hamper. Stash it on a hook on your closet door instead to create space and keep things vertical. 
     7. Utilize empty space in your room
If your closet is just simply too small and you happen to have the extra space, get a free-standing clothes rack to keep everything handy and organized.
     8. Hang a second rod
Perhaps the easiest way to create a ton of extra space in your closet is to install a second rod to hang clothes. This is an extremely inexpensive way to double the storage space.
     9. Pop those tops!
Using soda can tabs, you can double up hangers to get even more space out of your small closet.
     10. Trunk storage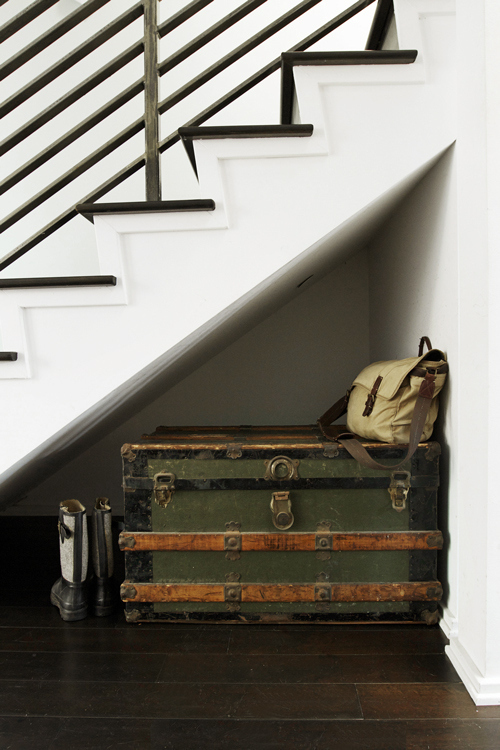 Using a trunk that can be found at a local antique shop, you can store out of season clothing or shoes. This can also double as a bench under a stair case, or at the foot of your bed.